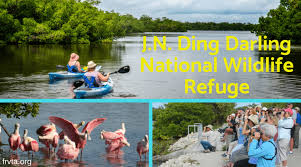 The Fort Myers area offers 50 miles of beautiful white sand beaches, uninhabited islands, and exotic, tropical, wildlife. There is so much to see and do! You'll find major attractions, awe-inspiring tours, family activities, and an array of spectacular dining and nightlife. J.N. "Ding" Darling National Wildlife Refuge features miles of trails for biking and offers spectacular birding. For water lovers, there is unlimited swimming, boating, and fishing.
We are avilable to help you plan a great lifestyle in Fort Myers! We have well-researched and carefully curated lists of Must Do experiences. Discover the best beaches, restaurants, shopping, golf courses, places to stay, and more. Be sure to ask what you can plan on your next day off!
Sanibel and Captiva Facts
Sanibel Island and Captiva Island retreats on the Gulf of Mexico and Intracoastal waters escort you into a parallel universe—the plants, the water, even the air are tranquil. Visiting Fort Myers' award-winning beaches and watching a Gulf of Mexico sunset is sure to leave a lasting impression. Fort Myers, Florida is a beachcomber's heaven. The area offers an uninterrupted expanse of shell-laden beaches that have earned Sanibel-Captiva Islands a reputation for some of the best shelling in the world.
From family-friendly Sanibel and Captiva Islands to laid back Fort Myers Beach, a visit to Southwest Florida will not leave you disappointed. Come relax, explore, and discover all that the Fort Myers, Florida area has to offer.