Living in California, we often get the question "Why vacation in Florida? You live by the beach!", and our response is always "It's just different!" And really, it is. One of the main reasons: Nature. There's no pollution, no high-rises, no congested roads… it's pure, it's unspoiled, and it's absolutely beautiful. Fort Myers and Sanibel is a nature-lover's paradise, not only because it's untouched, but because of the wildlife and a plethora of greenery! (Great use of the word plethora, huh?)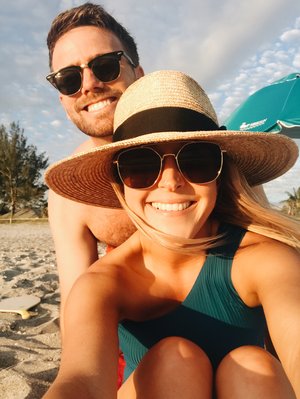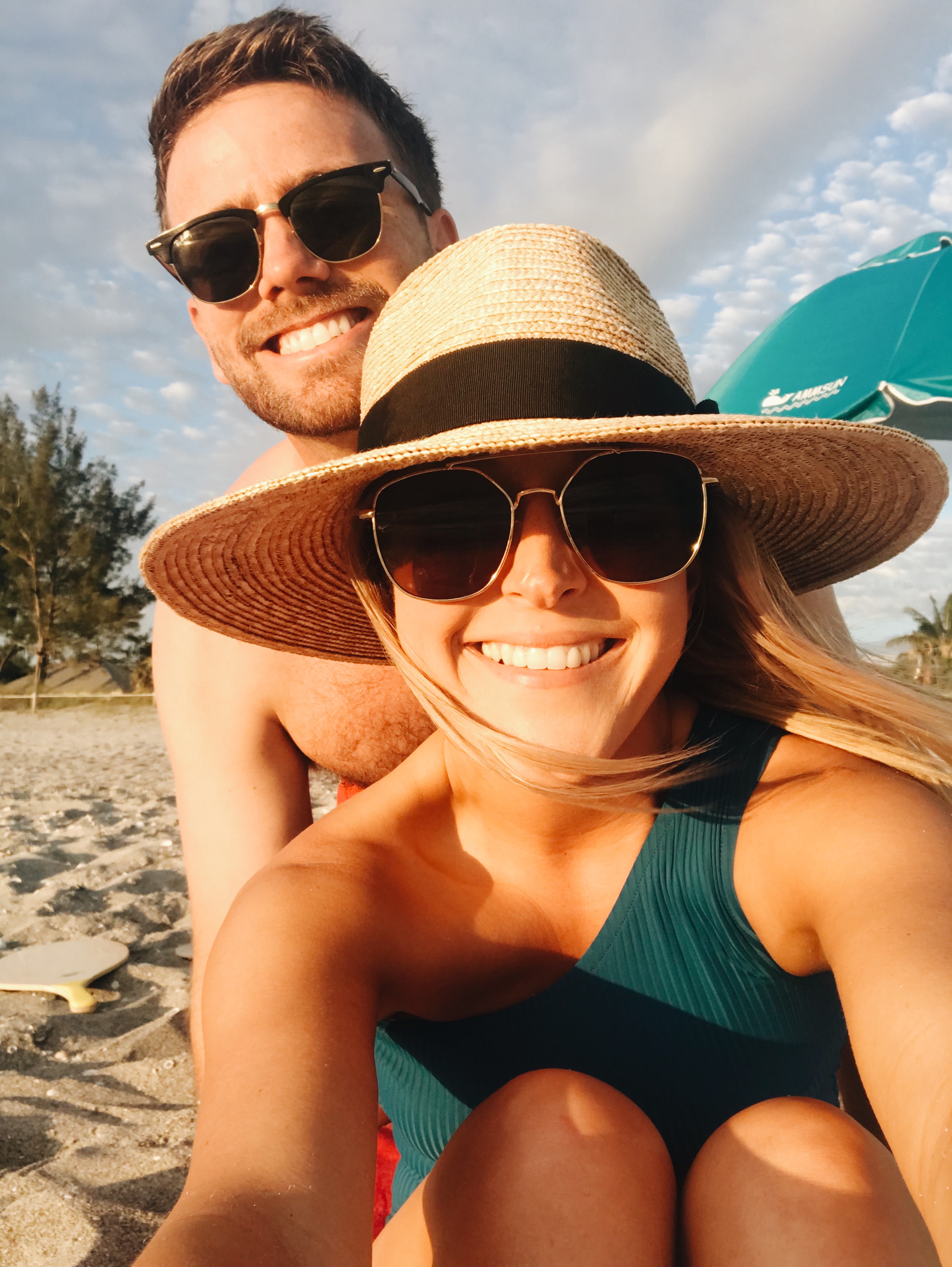 Let's start with the wildlife, because this trip blew us away with just how much wildlife this area has! Our focus on our first visit to Fort Myers & Sanibel was sea shelling, and we didn't really explore beyond the coastlines (although, we did see some adorable dolphins)… That first trip our main focus was combing the sand for shells – which took the majority of our time. Bobby was (and still is) obsessed with sea shelling!
This time, however, we made it a priority to see more nature. We spent one day kayaking the Estero River, where we saw both alligators and manatees (Neither of which are found in our neck of the woods!). We'll be honest – the gator was quite terrifying, but the manatee was absolutely adorable. If you haven't seen one yet, add that to your bucket list.
Kayaking along the river, you're able to get eerily close to these majestic creatures (maybe a little too close to the gator)! The manatees can hold their breath for up to 20 minutes (crazy!!), so they float along the bottom of the river and you can easily miss them while you kayak. The giant "sea cows" look really playful – basically the opposite of the gators. While kayaking, we also saw colorful birds and lush, green trees. It was a really relaxing way to spend an afternoon, and get a taste of Florida's incredible wildlife.
If kayaking is your jam, like us, there's a ton of epic spots to kayak all around the Fort Myers/Sanibel area! A few of our favorites are: Tarpon Bay, the Estero River, the Estero Bay, and of course, the ocean. Many of the areas are National Wildlife Preserves, so the landscapes are beautiful and well taken care of.
We'd also recommend getting on a boat for at least one afternoon. We hired a motorboat one day, and it was by far the highlight of our trip – starting with the dolphins! Our guide for the day, Captain Ryan, let us in on a little secret – dolphins love to play in the wake of your boat. So naturally, we encouraged him to drive at just the right speed that me might attract some friendly flippers… and it worked almost instantly! We saw more dolphins than we could count that day, and had a blast watching them play in the white water behind our boat. While we missed out on seeing any whales, they're also super common to see in this area!
Renting a boat allowed us to experience some of the surrounding islands and their unique natural beauty. North Captiva has some of the most stunning sandbars you can imagine. You could easily mistake the sandbars and turquoise water for the Bahamas, Tahiti, or Hawaii. It was as close to paradise as you can get, as the beaches on North Captiva were picture-perfect and very uncrowded. At some spots we were all alone! Absolutely dreamy!
Cayo Costa is another island we visited with Captain Brian that left us in awe. With the tidal shifts and moving sand, a giant natural salt water pool had been formed right on the beach. There was a spectacular flock of white Ibis flying around the pool, which luckily we were able to see from the boat and from above (via drone).
Once back on land, we'd also recommend renting a bike when in the Fort Myers & Sanibel area. We biked around Sanibel and loved the tropical vibes. Cruising on a bike, the salty air in your face, and the beautiful ocean blues and lush green – it's what warm weather vacation is all about.
While we're at it, there are also a ton of parks to explore on foot. We spent an afternoon in Caloosahatchee Regional Park and were wowed by the trees, wildflowers, and trails. There are stunning paths to meander through, and even some for mountain biking. We enjoyed sitting on the park benches and taking in the views of the water.
Lastly, we'd be amiss if we didn't talk about the beaches. There is no shortage of them in the area, and we found some new ones that we are particularly fond of. First, Blind Pass. Some say this is one of the best kept secrets in Southwest Florida. The soft sand, the fishing, and the shells (an AMAZING spot to look for seashells), Blind Pass is a great spot to spend an afternoon.
Lover's Key is another epic stretch of sand. It's called Lover's Key because it used to only be accessible by boat, so it is said lovers would head there to find a remote beach. Now accessible by car it is less remote, but still a breathtaking two-mile long beach that is a haven for wildlife – manatees, marsh rabbits, bottlenose dolphins, roseate spoonbills, and bald eagles!
Lastly, North Captiva which we discussed above – please just stop what you're doing, get on a boat, and go there. It'll live up to the hype.
After our first visit, we would have described Fort Myers & Sanibel as a great place to look for shells, relax on the beach, and eat some good seafood. We would now say all of that is definitely true, but we'd add that there are incredible tropical hideaways and up-close wildlife encounters. Next time we're excited to go whale-watching, hop around some islands we've yet to explore, search for more manatees, and get lost on the labyrinth of trails in Caloosahatchee Regional Park. We may pass on the alligators… but that could just be us.
Thank you to The Beaches of Fort Myers & Sanibel for sponsoring this post!