Did you know that Sanibel Island and the surrounding beaches and islands are known as one of the top places in the world for finding seashells and stretches of pristine, natural beaches? Imagine that; tropical islands where the beaches are skewed with beautiful seashells of all shapes and sizes, and it's located right here in the U.S., on the sunny, Southwest side of Florida! Sounds like the definition of paradise if you ask me!
After visiting the gorgeous area of Myers and Sanibel for a long weekend, I can definitely say that it was a perfect piece of paradise, and a hidden gem worth exploring. I can also see why Sanibel has been chosen as the location for the inaugural "shellebration" of National Seashell Day on June 20th!
Being a Florida native myself, and having grown up on the east coast beaches of Florida, I can honestly say that my shell collecting days weren't nearly as successful as just one day spent in Sanibel. But it wasn't just because of the unique and beautiful seashells I found, the overall experience of staying in Sanibel was really unlike any other I've had in Florida, and that's coming from someone who's spent a lot of time there!
The first thing that drew me to the idea of a trip to Sanibel Island, is a very important keyword there; it's an island. I happen to love islands, and let's be serious, who doesn't? So hearing that there were a few of them off the coast of Florida that also happen to have a ton of seashells, was a no-brainer for me. Sanibel Island and Captiva Island, where I stayed at the South Seas Island Resort, are only about an hour drive from the Fort Myers international airport. To get onto the islands you get to drive over a breathtaking bridge that's actually connected by small islands in the middle!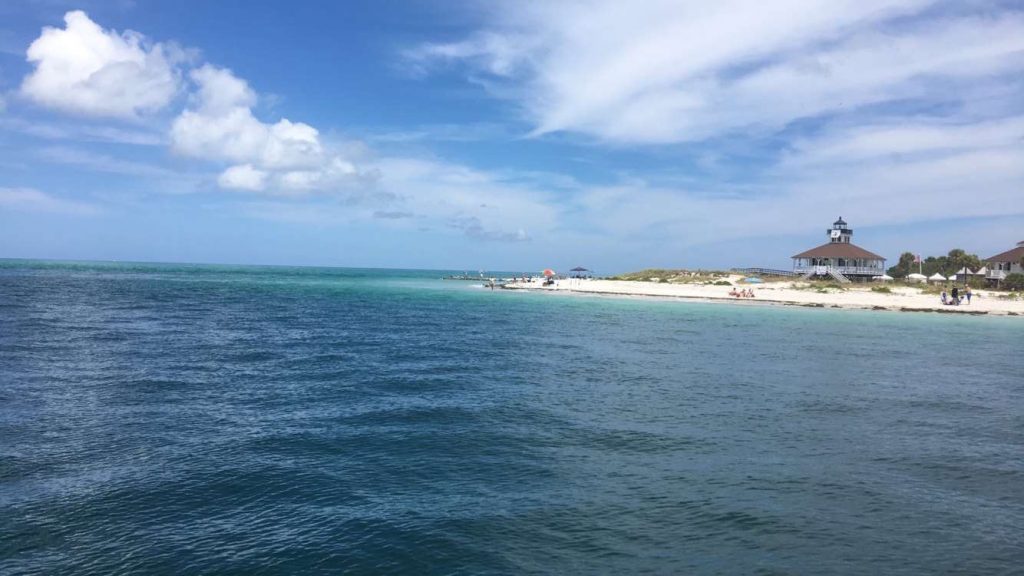 Once you're on the island, you'll mosey through the quaint little beach town, dotted with adorable shops and restaurants, and even an entire store that only sells inflatable floats! The laid back island atmosphere continues, and for me, that was into the South Seas Island Resort property, which is like an entire island community itshellf.
Instead of a typical hotel room, I had what felt like an actual apartment to stay in, which was fully equipped with a massive kitchen, dining room table, and balcony that looked out towards the beach! Naturally the first thing I wanted to do in the morning after a good night's sleep in the cozy bed, was head to the beach for my first attempt at shelling before the day's activities began. Luckily I was also majorly jet lagged, which helped me get up at 5:30am for sunrise, something I don't normally do, but was extremely glad that I did, because it was the perfect start to my "shell" of a great day.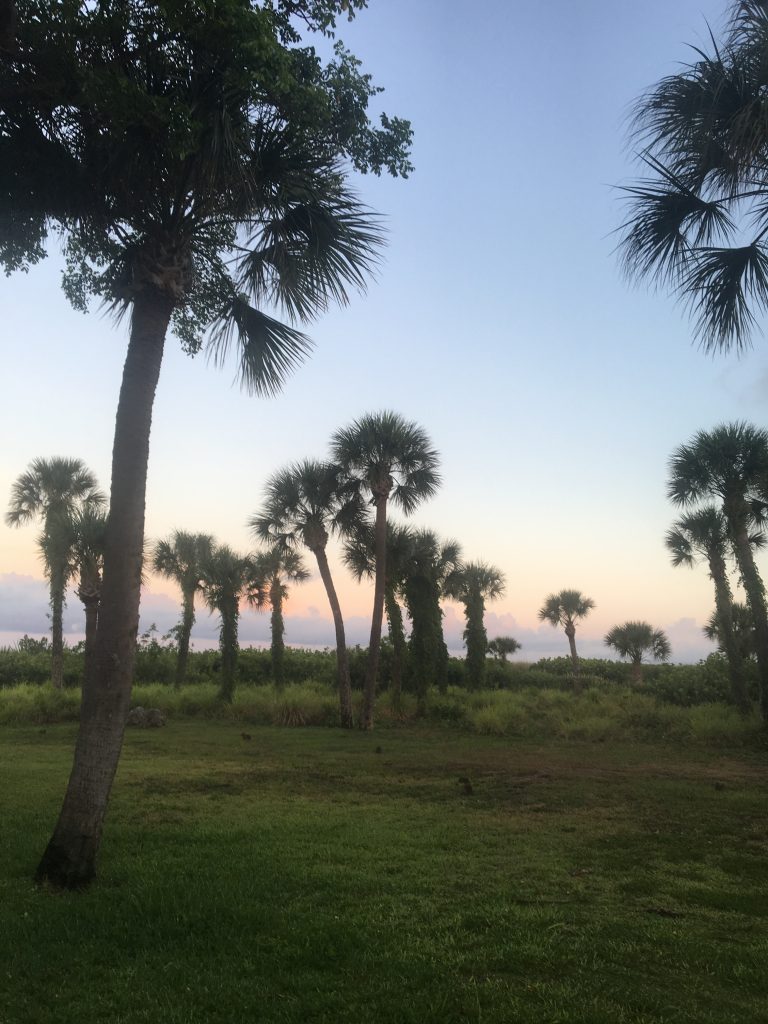 As I started my walk to the beach in the warm, wet, early hours at South Seas, I of course immediately noticed that the sunrise was painting the sky pink, but then noticed something even more magical! The lawn between my room and the beach was covered with little brown bunnies! There must have been at least a dozen of them, including a little clan of baby bunnies, and they all kept munching away on their breakfast grass as I passed, completely unbothered!
After spending way too much time Snapchatting the bunnies, I made my way to the empty beach to get a shot of the beautiful sunrise before the warm colors in the sky transitioned to blue. Of course as I walked, I immediately noticed the abundance of beautiful seashells, all mostly fully intact, and almost as if someone had placed them there. My favorites are the ones that I refer to as "mermaid bra shells" and the ones that appear to be thin little disks that shimmer in the sunlight. If you really want to get into shelling, you can dig deep in the sand and use a net to sift through, and find the bigger shells that may be buried below.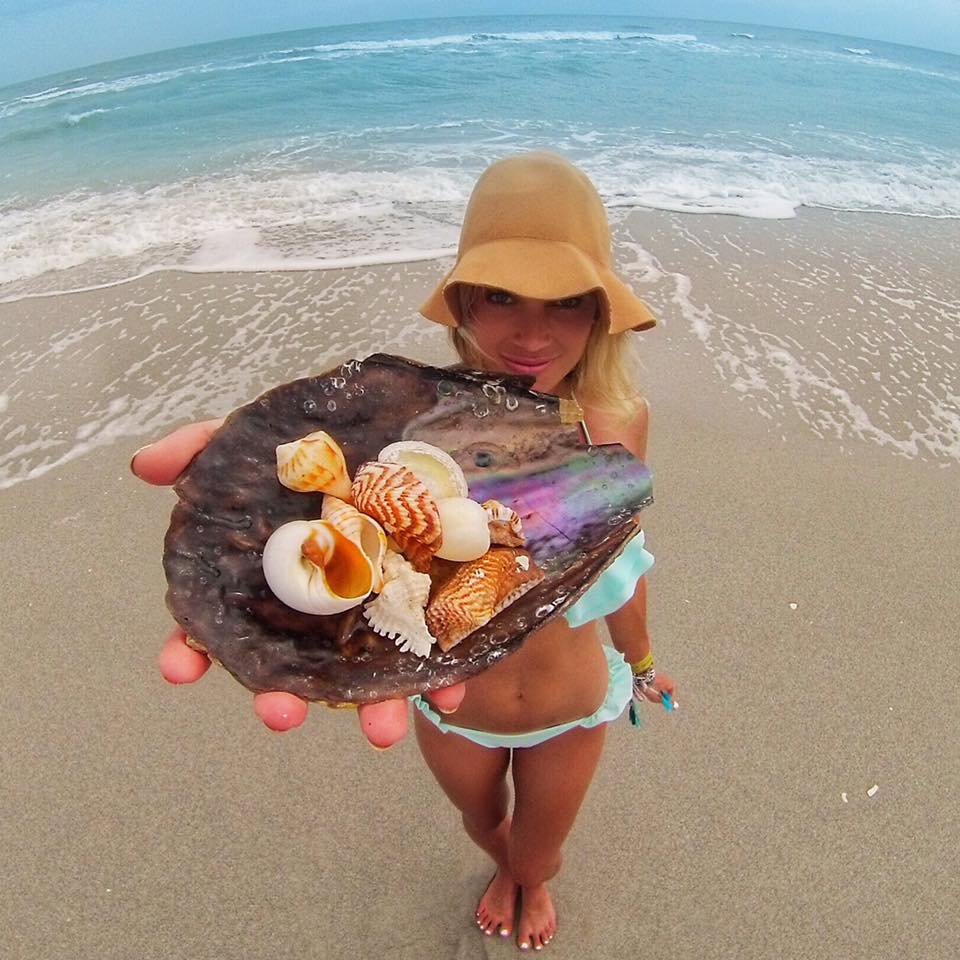 After bringing in my shell-bounty, I got dressed in my island-inspired ensemble, and headed to the South Seas boat docks to board the Captiva Cruises pontoon that goes around the islands. We had lovely captains and hosts who gave us tons of interesting information about the area, and we even had a marine biologist on board who gave us a lesson on seashells! That may sound a little odd, but I bet you didn't know that seashells are all living animals! Well, they start out as living animals anyway; the shells you find on the beach are technically all dead bivalves and mollusks (finally, I can use my Biology degree for something!).
In the middle of our shelling lesson, we got another awesome surprise! Flipper and his friends decided to have a field day in the wake behind our boat! I'm not talking like getting a glimpse of a dorsal fin, I'm talking like a full on dolphin acrobatics performance happening just a few feet from our faces! I can't even begin to explain how excited I was other than saying that I got quite a few comments about how I kept screaming in my Snapchats!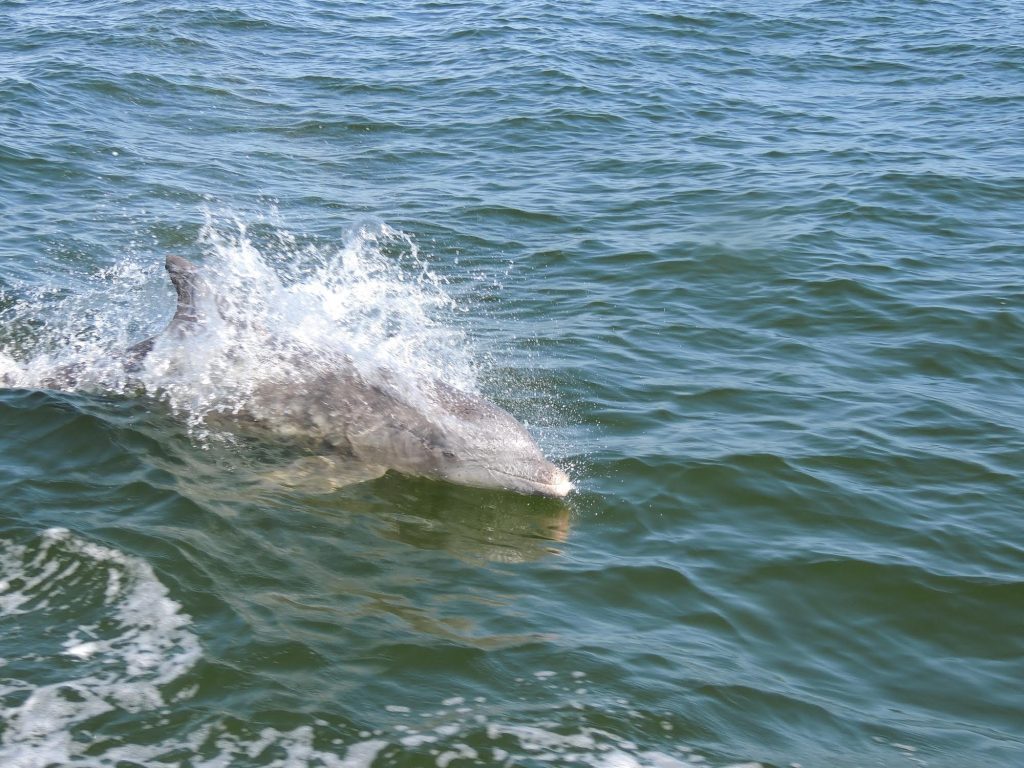 When the dolphins finally got tired, we went back to cruising around the islands until we got to Cayo Costa for another shelling session. I found a few bigger shells there, like a Sea Pen with pieces of Mother of Pearl, and a slightly broken conch shell, but I also noticed a lot more pieces of sand dollars, which I heard could be found in the water. Be careful though, you never ever want to take a live seashell, sand dollar, or starfish! Check to make sure nothing is moving, or that there isn't an animal inside! Taking a live seashell is actually illegal in Sanibel, so make sure that shell is empty!
After shelling in Cayo Costa, we headed over to a teeny tiny little island called Cabbage Key. There isn't much on Cabbage Key…except for the awesome little beach Cabbage Key Restaurant where rumor has it that Jimmy Buffet first sang "Cheeseburger in Paradise"! You'll understand why as soon as you taste some of the delicious island fare as you look out at the sunny Florida sky and clear blue water.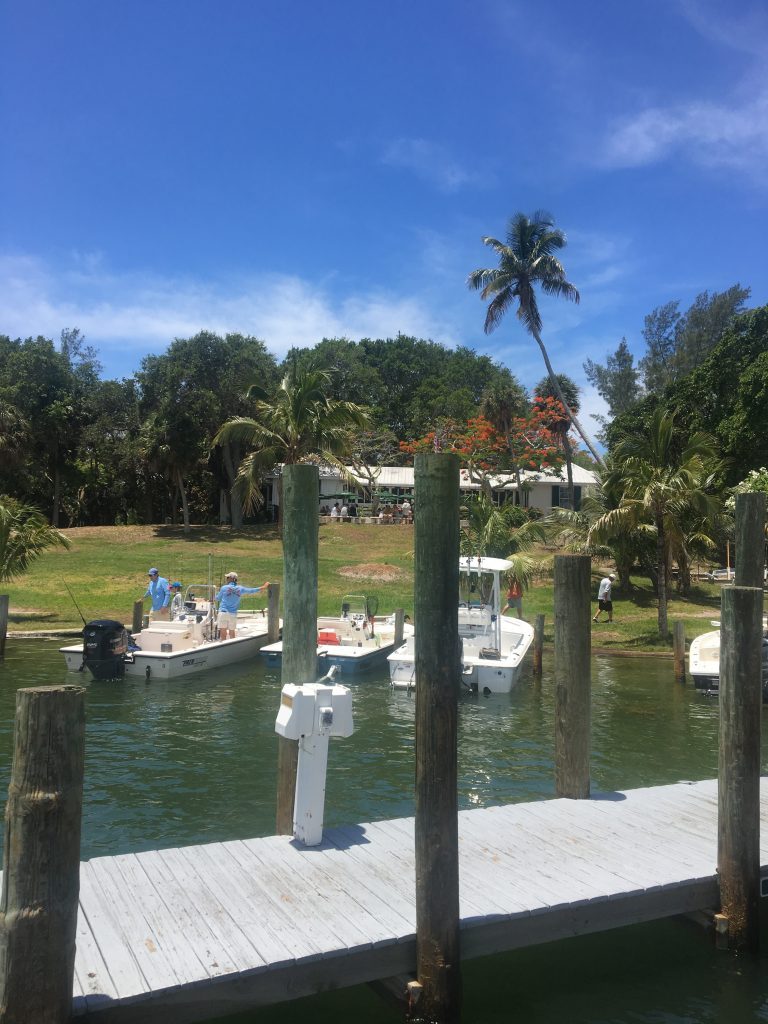 Finally it was time to cruise back to South Seas, but it just so happened to be right around happy hour, which I of course couldn't resist! Especially when I saw the amazing, tropical pool area, with two pools that overlook the ocean, complete with towering palm trees, a massive tiki bar, and some live music with steel drums!
I soaked up the remaining sunshine of the day and stuck around for the grand finale; a seemingly water-colored sunset over the vast blue ocean. To top it all off I indulged in a delicious seafood dinner at South Sea's Harbourside Bar & Grill, and afterwards even got to see some manatees rolling around right near the docks outside!
With just one day as amazing as that one was, can you see why I say that Sanibel is a perfect piece of paradise??